(678) 928-6557
Codeine Detox Near Atlanta
Codeine may be easy to access and regularly prescribed as a remedy for pain, but it's still a habit-forming opiate with a significant potential for unintended consequences. If you are fighting with an addiction to codeine, the initial step to recovery is a medically directed detox. During detox, your body will rid itself of the substance while you make preparations for the next phase of rehab.
At Sunrise Detox Alpharetta, we'll direct you through withdrawal in a safe fashion and set the stage for your long-term recovery. Call (678) 928-6557 to start codeine detox near Atlanta today and take control of your life.
Do I Need Codeine Detox Near Atlanta?
One of the clear signals of an addiction to opioids is the occurrence of withdrawal symptoms when you try to quit. You might first notice physical problems like queasiness, body and muscle pain, and throbbing head pain. Over time, you might encounter psychological symptoms such as anxiety. While withdrawal is a common indicator of a dependency, there are additional red flags, including:
Urges to keep using
Onset of a tolerance and a need to ingest larger doses to feel the effects
Upheaval of your life leading to problems at home, work, or school
Constantly fretting over obtaining more of the opiate
Withdrawing from people close to you and no longer participating in pastimes you once enjoyed
Our codeine detox near Atlanta is the appropriate first step in recovery. We'll keep you safe and rested as you deal with symptoms of withdrawal. We'll also prepare you through optional therapy sessions so you can set the groundwork for a complete recovery.
What You Should Expect From Codeine Detox At Sunrise Detox Alpharetta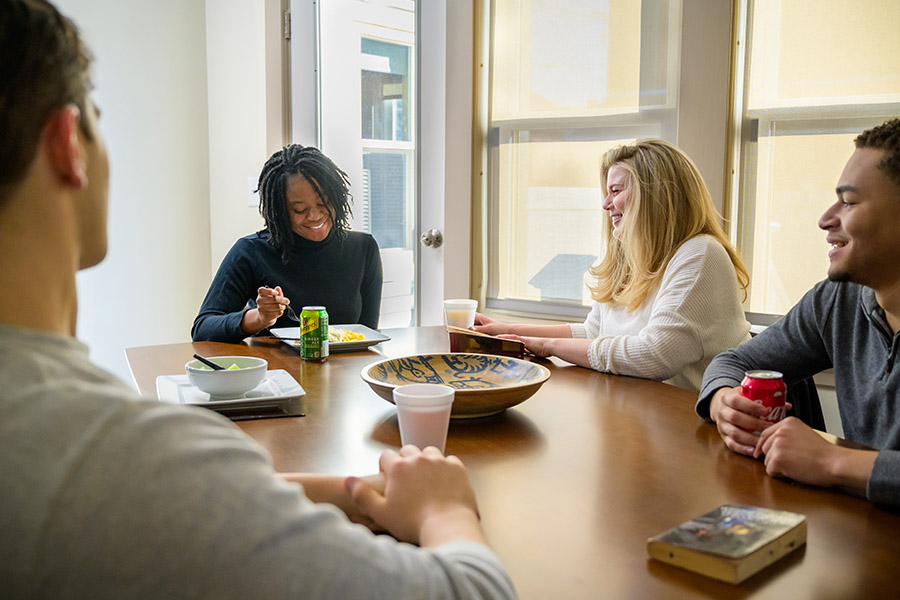 We are of the belief that the best way to detox is through a customized approach. Once you arrive at Sunrise Detox Alpharetta, we'll give you a thorough evaluation to understand the scope of your usage, your medical history, and your physical and mental condition. By doing so, we can draft a detailed treatment plan specifically for you.
Our skilled medical staff also recognizes that your health and comfort are crucial to detoxing successfully. That's why we provide relaxing bedrooms and wholesome, chef-prepared meals in a nurturing surrounding that encourages recovery. We will monitor you continuously and offer support as you require to mitigate withdrawal symptoms that may include:
Muscle pain
Nausea and vomiting
Insomnia and restlessness
Headaches
Diarrhea
Depression
Anxiety
Whenever you're feeling better, we'll encourage you to take advantage of individual and group therapy. This is a fantastic method to help you confront the mental elements of addiction while preparing you for residential rehab.
How Long Will I Be In Codeine Detox?
Most people can successfully detox in 10 days. The actual time you are here will likely be different from others and will be influenced by the following:
The frequency and duration of your codeine use in addition to the amount you take
Your total physical condition
Your response to care
Your specific needs and prior medical care
Prior to sending you off, we'll make sure you are medically stable and furnished with an aftercare plan, so you comprehend exactly what will occur as you move forward.
How Can Sunrise Protect Me Throughout Codeine Detox Near Atlanta?
The physical and mental pressure of detox will often be too much when trying to detox on your own. At Sunrise Detox Alpharetta, we recognize how to keep you secure and moving forward. This commences with our ability to effectively manage withdrawal symptoms.
Our dedication to safety involves:
Around-the-clock care from licensed medical professionals
Controlled and pleasant surrounding away from factors that trigger use
Individualized care plans catering to your exact needs
Comprehensive aftercare planning so you have a clear idea of how your recovery will continue
Unwavering patient privacy rules to safeguard personal info and details of your treatment
Suboxone is an authorized medication to help you carefully taper off opioids. This substance has shown to be effective and is not as addictive as other choices. To maintain safety, we adhere to the following:
We hold off on using Suboxone in the opening stages to avoid a precipitated withdrawal
A preliminary dose is given and response tracked
Adjustments are made as required or other treatments considered
We'll gradually taper you off Suboxone
Begin Your Recovery With Codeine Detox Near Atlanta
Codeine addiction is not something we take lightly and neither should you. The substance is unsafe in itself and it might serve as a route to more potent opioids like morphine, oxycodone, and heroin. If you or a family member are in need of help, you can find it now. Contact (678) 928-6557 or submit the form on this page to begin. We are here for you day and night, all year long, and answer all requests immediately.
Call (678) 928-6557 Today