(678) 928-6557
Fentanyl Detox Near Atlanta
Fentanyl can be a dangerous drug not only because of its potential for addiction but also since it is commonly mixed with other illegal drugs. If you develop an addiction to fentanyl, you need help immediately. And the first step of recovery is through a medically directed detox to rid your system of the drug.
Sunrise Detox Alpharetta provides proper support to carefully taper you off fentanyl while managing withdrawal symptoms. Your life is valuable. Don't risk it by continuing to use or attempting to stop alone. Rather, reach out to (678) 928-6557 and get started toward recovery.
How To Tell If You Need Fentanyl Detox Near Atlanta?
First introduced as a legitimate anesthetic during the 1960s, fentanyl is often abused, illegally produced, and recklessly combined with other drugs like cocaine and heroin. Like other opioid painkillers, the euphoric feelings it produces makes it extremely habit-forming. You might be dependent if you have any of the following:
● Withdrawal symptoms arise when not using fentanyl
● Persistent compulsions to keep taking fentanyl
● Withdrawal from friends and family or an alteration of social circles
● Finding and using the drug becomes more vital than meeting day-to-day commitments
● Severe mood fluctuations and lethargy
● Finding that you require more fentanyl to get the feelings of euphoria
Every individual's experience with fentanyl dependency will be unique. The bottom line is you need to seek help. The potency of this drug and the gravity of withdrawal make halting use on your own very unsafe. Don't put yourself at risk. Speak with the detox professionals at Sunrise Detox Alpharetta.
What You Can Anticipate From Fentanyl Detox At Sunrise Detox Alpharetta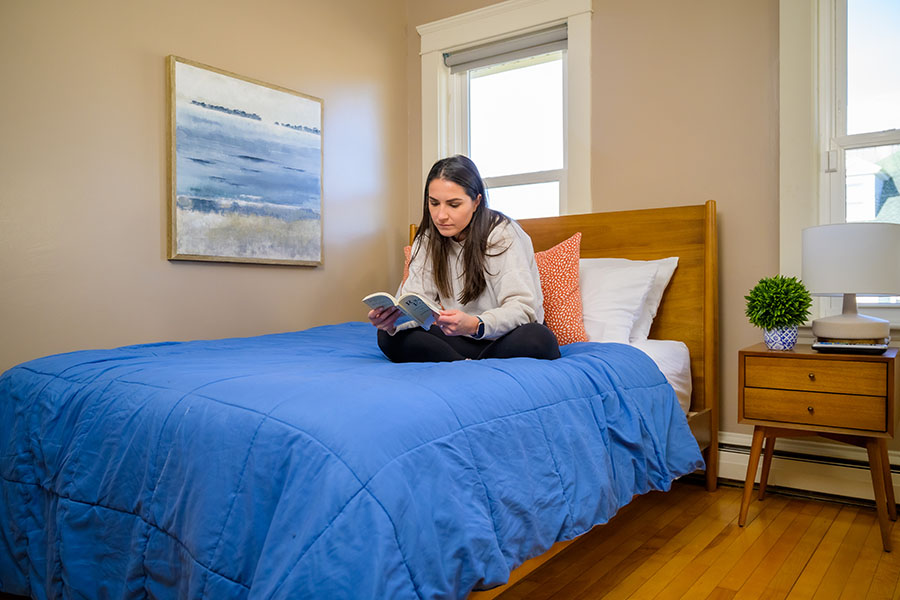 Sunrise allows you to detox with respect and dignity in a judgment-free environment. We are passionate about what we do and follow a personalized approach to substance use care. This starts with an evaluation that considers the level of your fentanyl use, medical history, overall health, and if you are taking other drugs. At this point we can personalize a plan of care.
Along with an individualized plan, we'll supply you with a fully furnished bedroom to relax in and increase your strength with wholesome meals and refreshments. Ensuring your comfort is extremely important, and we start by managing withdrawal through medication-assisted treatment and other approaches. We are experts in dealing with various types of withdrawal symptoms, including:
● Muscle or bone aches and pain
● Nausea and vomiting
● Diarrhea
● Restlessness and insomnia
● Cravings
● Increased heart rate and blood pressure
● Mood fluctuations
● Anxiety
● Depression
When you're feeling better, we'll encourage you to take part in individual and group therapy. This is beneficial in managing the the external influences and trauma that trigger your addiction. Then we'll help prepare you for the following step of rehab.
How Long Will I Be In Fentanyl Detox?
Since we believe in a personalized approach, the length of time you stay with us will vary. In general, individuals can finish fentanyl detox near Atlanta within a week, although extended plans of treatment are not unusual. The overall length of your stay may be influenced by:
● The level of your fentanyl consumption
● Secondary addictions to alcohol or other drugs
● Your mental and physical condition
● How responsive you are to treatment
We need to make certain you are physically stable and set for the following phases of treatment. Taking that into consideration, we prioritize aftercare planning, which will give you a comprehensive guide to your recovery.
How Will Sunrise Ensure Safety During Fentanyl Detox Near Atlanta?
Making the call and starting your fentanyl detox near Atlanta is a significant move toward ensuring your safety against this deadly opioid. After you get here, you'll be protected by the additional safety measures we have implemented, including:
● Around-the-clock guidance from licensed medical staff
● A controlled setting far from outside factors that trigger fentanyl use
● Individualized treatment plans to fit your unique condition
● Aftercare planning to establish a detailed guideline of the stages of your recovery
● Unwavering patient privacy rules to keep your private information and details of treatment safeguarded
Our medical professionals will also make certain you don't get a secondary addiction to treatment medication. We generally utilize Suboxone during opioid detox as it is effective and less addictive than other options. To maintain safety when administering this drug, we follow these guidelines:
● Hold off on using Suboxone in the early stages of care to prevent precipitated withdrawal
● Provide an opening dose and observe your response
● Adjust the dose if required or switch to additional options
● Cautiously wean you off Suboxone
Start Your Recovery With Fentanyl Detox In Atlanta
Don't let an addiction to fentanyl wreck your life. Find the support you need at our fentanyl detox in Atlanta. We'll keep you protected, get you through withdrawal, and start you on a path to long-term sobriety. Contact (678) 928-6557 or complete the form on this page to request assistance. We are standing by for you 24/7, 365 days a year.